In Memory of Michael Zebuhr
September 21, 1980 - March 19, 2006

Photo #1 This picture was taken by Michael Zebuhr (Clemson University) on 28 Feb 2006, to demonstrate that aluminum does indeed glow, if hot. Here, the aluminum is on a tungsten "boat" between two electrodes. The boad is heated by an electrical current. At this temperature, an increase in the temperature would increase the brightness and white-out the picture similar to photographing an incandescant light.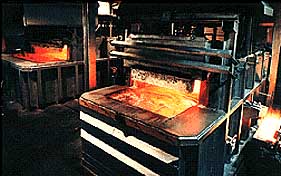 Photo #2 This image is from an aluminum casting website. The molten aluminum is glowing. The room is at atmospheric pressure.
back to top
Molten Aluminum

Figure #3a: Temperature chart
Figure #3b: Molten aluminum at approximately 930°C - 1100°C.
Source: The International Aluminium Institute
back to top
Figure #3c: The team casts a crankcase from aluminum.

PHOTO BY JUDY HAY
source: Popular Mechanics
from the book: Build an Oil Fired Tilting Furnace by: Steve Chastain
back to top
Figure #10a,b These images are from a book showing how to melt aluminum and separate it from the slag. It has been discussed that these two pictures may not be aluminum, but no one is absolutely sure.

It is not possible to identify the type of material that is flowing simply by looking at a photo, as demonstrated by Steven Jones in analyzing the photos on this page, 8/10/06. (mp3)

On Jim Fetzer's radio show, Steven Jones identified this material as looking "silvery," implying that he, too, thought it could be aluminum.(mp3) However, the point is that no one is really sure. Can you tell by looking at it what metal it is, especially if you don't know the temperature of it? What has slopped over onto the sides and cooled does indeed look "silvery."



The molten aluminum is glowing.
The environment is at atmospheric pressure.
The lighting is "daylight conditions" (outside).

Source: http://www.metalwebnews.com/howto/furnace2/melting.html
back to top
Here is the last 20 minutes of Jim Fetzer's radio show (10 Aug 2006)
with Steven Jones. (The full show is here and here.)
See also the Aluminum Glows page.

---