| | | |
| --- | --- | --- |
| | | LACK OF DEBRIS |
WTC 911 Blows Up TOP DOWN not a structural collapse

Video 1. URL (1:29) (no sound) Watch: (all)


Notice how large pieces of steel are turning to dust in midair and do not reach the intersection below.

leschwartz
Figure 1a.


There was a 500,000-ton building here just a few minutes ago. "Where'd it go?" (Looking south, Vesey & West Streets.)The video to the left shows debris headed toward this intersection, but it turned to dust before hitting the ground. (9/11/01)

source
Where's all the rubble gone? ABC 12:44 pm, 9/12/01
ABC Admits That WTC Steel Turned To Dust (Evidence of Exotic Weaponry?)
Video 2. URL (4:13) Watch: (0:00-1:00)


Peter Jennings and George Stephanopolis, ABC news, September 12, 2001, 12:44 pm, Where's all the rubble gone? ABC, 9/12/01 (12:44 pm),

WTCdemolitions
Video 3. URL (0:45) Watch: (all)


Robert Krulwich, ABC news, September 13, 2001, ABC Admits That WTC Steel Turned To Dust (Evidence of Exotic Weaponry?)

xXSimonJCPXx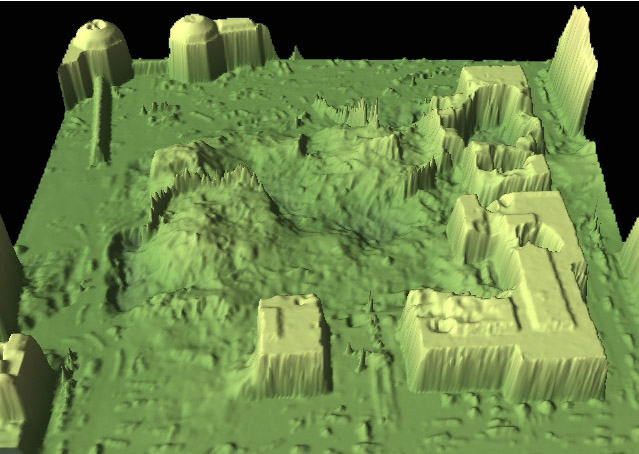 Figure 3a.
Why did the destruction stop at ground level? (west)
source
9/11 "spire" on NBC

100% PROOF TWIN TOWER JUST TURNED TO DUST MOLECULAR DISSOCIATION

Video 4. URL (0:46) Watch: (0:18-0:25)


Like peeling a banana. The material is stripped away from the core columns like peeling a banana. Fine dust did not settle onto the vertical column like snow settles on the ground.

chrysaor911
Video 5. URL (0:24) Watch: (all)
91177info
WTC Dustified

WTC 1 - Slow Motion (Lightened)

Video 6. URL (2:09) (no sound) Watch: (any/all)
checktheevidence
Video 7L. URL (0:25) Watch: (any/all)


Notice how large pieces of steel are turning to dust in midair, yet small pieces of aluminum cladding from the building's exterior are not...

femr2
Figure 7a.
Steel columns disintegrate into steel dust with WTC7 and water tower in the foreground.
Source: (terrorize.dk, no longer available)
911 New FOIA WTC 7 Explosions and Cars Destroyed by Pyroclastic flow
wtc 911 car engines on fire nist cumulus foia
Video 8. URL (1:51)Watch: (0:50-0:59) & (1:00-1:51)


From 0:50-0:59, Lather is flows out of the east face of WTC7. It appears to be pulled out, as it is not freely flowing out of the open windows on the north face of WTC7 (toward the camera).
From 1:01 onward shows the toasted cars up West Broadway. From 1:00-end, Toasted Cars up West Broadway.

FacelesswithEyesOpen
Video 9. URL (0:07) Watch: (all)


The firefighters calmly walk through the car "fire" (from the left).

zenoist2
Salomon Brothers Building (WTC7) - kurz vor dessen Einsturz
wtc 9/11 overturned cars new nist cumulus foia
Video 10. URL (5:33) Watch: (4:30-4:50)


(2:00-2:50) fuming
(2:50-4:12) "cheeto windows,"
(3:50-4:37) fumes waft away (no strong wind.)
(4:16-4:18) fumes wafting away behind WTC7
(4:30-4:50) fumes appearing to be pulled out.
(4:45-5:33) toasted cars


Infokrieger119
Video 11. URL (0:37) Watch: (all)


Flipped cars and little debris immediately following the destruction of the WTC complex. The lack of water on the street implies this was before the water main broke on West Street.

zenoist2
Spontaneous Combustion from trapped heat WTC 7, 9-21-01 - Kurt Sonnenfeld Release?
WTC fire at base of the building
Video 12. URL (0:29) Watch: (0:07-0:14)


Apparent spontaneous combustion

EdWard3MD
Video 13. URL (0:37) Watch: (0:20-0:30)
debunking911
Remember,
"Hot things glow, but not everything that glows is hot."
COASTRAIL INC. THERMITE WELDING 3

Blinded by the Light ~ Manfred Mann's Earth Band with lyrics

Video 14. URL (1:05) Watch: (any/all)


The WTC did not light up like this.

REVERENDSABOTAGE
Video 15. URL (7:09) (Rock Song) Listen: (0:00-0:15)


A Rock song from the 1970s, as a reminder of what we would have seen if thermite was used or if bombs were used.

exactimages
Remember,
"Bombs go boom, but not everything that goes boom is a bomb."
9/11 - Ground Zero (Steel-toed Boots)

Giuliani - Hot Fires at WTC

Video 16. URL (0:30) Watch: (0:13-0:30)


"Steel-toed Boots melt"? It's "1,100°F" on the pile?
But I am not aware of any reports of burned feet.

chrysaor911
Video 17. URL (0:26) Watch: (all)


Mayor Giuliani said they were standing over 2,000°F fires, so why weren't they cooked? Turkey cooks in a 350°F oven.

checktheevidence
HUTCHISON effect: Solid Iron Bar begins to liquify. Metal Mutation.
WTC 7 Burning (fuming door handle at start)
Video 18. URL (2:11)Watch: (0:24-0:31)


Watch the fuming block from about 0:24 - 0:31.
HUTCHISON effect: Solid Iron Bar begins to liquify. Metal Mutation. jThe solid-iron block is about 2 x 2 x 7 inches.

HUTCHlSONeffect
Video 19. URL (2:51) Watch: (0:00-0:07)


Watch the fuming car-door handle from about 0:00 - 0:07.

IC911STUDIES
John Hutchison's Model Boat Experiment
The Hutchison Effect - Compilation Video Documentary
Video 20. URL (1:58) Watch: (1:20-1:40)


"The Hutchison Effect"
When the signal is turned on, drops of water levitate and fall back down. As soon as the signal is turned off, the water is immediately calm. The appearance of "fire" usually occurs just after the signal has been turned off. Note the segment from 1:20-1:40. The toasted cars appeared to light up just after the towers were destroyed -- and while it was still dark from the dust blocking out all sunlight.


The video can be downloaded here: mpg (4.7 MB) Source: HutchisonPE.swf
checktheevidence
Video 21. URL(10:00) Watch: (5:21-5:31) & (5:45-6:00)


(0:55) crumbling, transmutated
(1:38) exploded from within
(2:24) fused w/o heat-knife
(3:13) fused w/o heat-wood
(3:37) fractured-rejoined
(3:50) fractured
(4:02) jelly metal
(4:25) toasted steel
(4:58) levitation

(5:03) wiggling bar
(5:21) bending bar
(5:45) fracturing bar
(6:00) water jumping
(6:15) jelly block
(7:04) jelly bar ("heartbeat")
(8:10) jelly bar fractures
(9:00) flying plate, cup, saw, milkshake


pookzta
Hutchison effect: Objects Levitate, Metals Mutate, Time Travel

Video 22. URL (3:45) Watch: (any/all)
HUTCHlSONeffect
John Hutchison - Red Bull Can Experiment
911 Molten Steel From WTC Towers Displayed On History Channel
Video 24. URL (1:15) Watch: (0:07-0:30)


The can appears to bend at the "waist," as if taking a bow, while no mechanical force is applied to the can.

checktheevidence
Video 25.URL (1:19) Watch: (0:12-0:40)


The massive beam is smoothly bent in the shape of a horseshoe. It is not buckled. A mechanism other than heat had to have done this.

babyjustwin1
Video 26. URL (loop) (9/01-17/01)

Figure 26a.

This photo of Hurricane Erin was taken mid-morning on 9/11/01. The eye has an unusual appearance (erin1, erin2) (9/11/01) Source
Tornado


Video 27.URL (0:57) Watch: (all)


Evidence of field effects. This tornado grows from the ground up.

Pavolilko

Figure 27a.

Note, the fence still stands.

Evidence of field effects. This car came to rest on the wooden fence during Hurricane Wilma.

source:
| | | |
| --- | --- | --- |
| | top | GRAVITY and MAGNETISM |
Replicating the Boyd Bushman Gravitational Experiment by William Alek and Michael Ellegion
Video 28. URL(10:46)Watch: (0:35-4:20) & (6:30-10:45)


"Could gravity be related to its cousin magnetism?"
Boyd Bushman's experiment is performed by others with similar results.
(SNNS) Opposing magnets insde the rock cause it to fall slower.
(NSNS) Attracting magnets inside the rock cause it to fall faster.

pookzta
1821 electro-magnetic rotations


1821 electric motor


Michael Faraday

1831 generator


FARADAY DISCOVERS ELECTRICITY
The Transformation of Everyday Life
(excerpts)

"Faraday had served [Sir Humphry] Davy, whom he worshipped, extremely well as 'philosophical assistant' in experiments with chemistry and physics, but more and more he was being drawn to the study of this strange electric force which seemed to exist everywhere, to be conjured out of almost anything, like rabbits from a hat, and which, unlike the rabbits, seemed to promise a new strange magic, once man learnt to control it."

"He was torn between chemistry, he had already, without bothering to explore its commercial possibilities, invented stainless steel, and the study of electricity. In his heart he knew he could abandon neither, but the fact that Sir Humphry was now switching his efforts to the latter made his choice for him; he had to help his master."

"But then, instead of developing it, Faraday went straight on to investigate more fully the behaviour of electric currents near magnets, of wires near wires, of wires in the earth's magnetic field. He found that he could produce a movement similar to that of his experimental motor by using terrestrial magnetism instead of the bar magnet."
Selected Events

In the 1790s, Alessandro Volta (1745-1827) discovered that if pieces of different metals were piled on top of each other separated by cardboard soaked in an acid, an electric current was produced.

In 1820 Hans Christian Oersted (1777-1851) discovered electro-magnetism. Certain metals can be made magnetic by passing an electric current through a coil wound around a piece of them.

The galvanometer, which measures the quantity of electricity, was invented following Hans Christian Oersted's discovery of electro-magnetism in 1820, and was named after Luigi Galvani.

In 1821, Michael Faraday discovered that a vertically mounted wire carrying an electric current would rotate continuously round a magnet protruding from a bowl of mercury. This phenomenon, which Faraday called electro-magnetic rotations, showed that it was possible to produce continuous motion from the interaction of electricity and magnetism.

in 1831 the electric generator was invented by Michael Faraday while exploring electro-magnetic induction.

in 1886 Nikola Tesla (1856-1943) formed his own company, Tesla Electric Light & Manufacturing.

In 1995, Boyd Bushman demonstrated the interaction between magnetism and gravity. (See URL, or video above.)